BAG RelEx members
BAG RelEx was founded by 25 non-profit organisations in November 2016; presently the organisation has 34 members from all over Germany. Their target groups and approaches are varied, and they cover a wide variety of challenges. Members' work can roughly be divided into three categories:
Universal / primary prevention, i.e. encouragement of competencies oriented towards democracy and human rights, prevention of individual and group radicalisation
Secondary prevention / intervention work, i.e. early detection and work with groups at risk
Tertiary prevention / de-radicalisation, i.e. social and ideological support, support in dissociating from the extremist scene, prevention of further radicalisation, counselling of parents
Overview
Locations of our member organisations
Members of BAG RelEx can be recognized by this stamp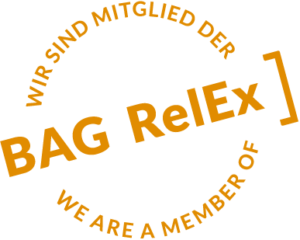 International Cooperation
In addition to networking with the German actors in preventing violent extremism, BAG RelEx strives for international exchange and networking. In this context BAG RelEx cooperates with international partners.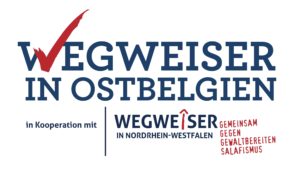 The Wegweiser Ostbelgien (Signpost East Belgium) is a program for the prevention of violent radicalism. It is intended to prevent young people from joining radical groups and to take care of those who have already come into contact with problematic milieus. By sensitizing first-line actors, radicalisation processes should be made more visible overall and the response to them optimised as far as possible.
The establishment of a signpost contact point in East Belgium is part of the strategy to prevent violent radicalism in the German-speaking community. It is based on a cooperation agreement between the German-speaking Community of Belgium, the State of North Rhine-Westphalia and the City of Aachen.
The government of the German-speaking Community is responsible for the contact point, which is based on the North Rhine-Westphalian Wegweiser Programme in terms of content and yet operates autonomously. The contact point was located at the Kaleido Ostbelgien service and opened in April 2017.